Free parking space indicating wireless display
You are here
Free parking space indicating wireless display
Features
>
MAX. ELEMENTS : up to 100 sensors/repeaters.
>
TYPE OF MESSAGES :11 messages: "arrow +999"(free spaces)/"9999" (free spaces) /"text" (3 characters)+ " nº free parking spaces"/ text (7 characters)
>
OUTDOORS. It is suitable for outdoors/indoors.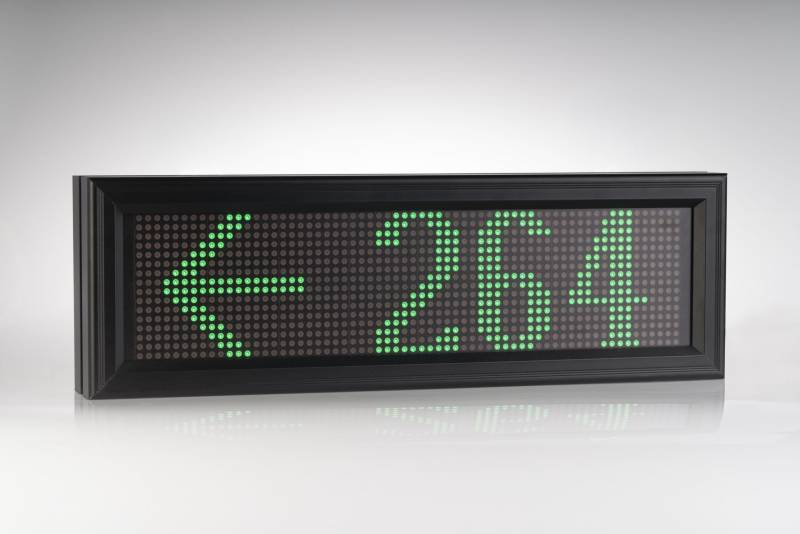 Dimensions

Technical specifications
Description
Free parking space indicating display "wireless" outdoor with 2 lines
Power
Universal (85-264VAC)
Communications
2,4 GHz wireless
Coverage
10-50 m to the sensor/repeater (depends on the obstacles...)
Pixels
16 (height)x 64 (width) píxels. RGY (Red/green/yellow). Pitch 7,62mm (distance between pixels)
Operating conditions
Temperature: -10ºC to +40ºC/Humidity: 15% to 95%RH.
VISUALIZATION DISTANCE
Max.50m
Led angle
120º horizontal, 120º vertical
Brightness
750 cd/m2 without front cover, 370 cd/m2 with front cover
Connections
Through bornes using screws
Enveloping case
Black painted aluminium
Dimensions
Housing: 182x548x85 mm and 4 kgs/ Display area: 122x488mm