iSWITCH Non card DIN rail mounted wireless energy saver
You are here
iSWITCH Non card DIN rail mounted wireless energy saver
Features
>
ENERGY SAVING. It turns power off when the guest leaves the room, to prevent from air conditioning, lighting...to be left on.
>
CARDLESS No card required to operate. A button will be used for the synchronisation with the sensors.
>
COMFORT. Temporized courtesy light and possibility to control the access to the minibar, phone, water...
>
WIRELESS COMMUNICATION WITH SENSORS. It receives the information sent by sensors and acts accordingly.
>
HANDHELD energy saver's status visualization and factory default parameter modification using the handheld (optional).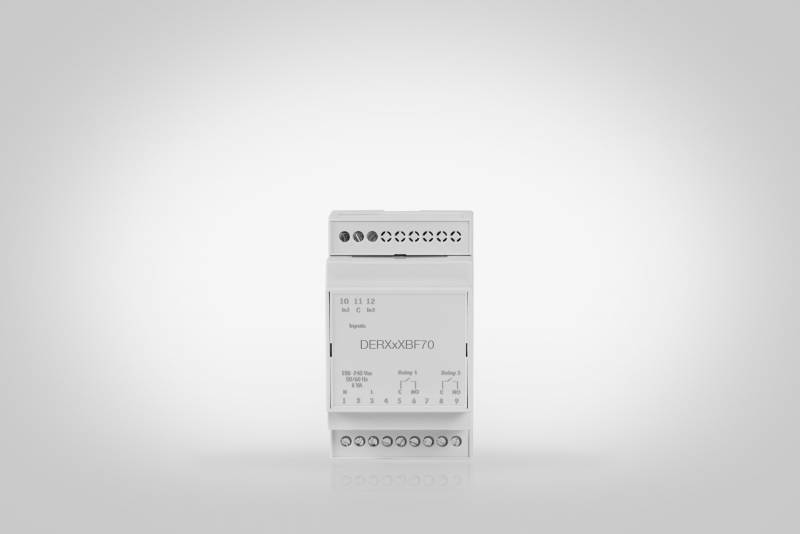 Dimensions

Technical specifications
Description
iSWITCH non card DIN rail mounted- WIRELESS energy saver
Consumption
30 mA nominal. 50mA ( 240 V~) max.
Output relay
2 relay:
2 relays free voltage with 1 contact N.O.
Cutting power: 12 A, 240 V~, cos φ = 1

Communication
2,4 GHz, IEEE 802.15.4 wireless
Pilot lights
Tricolour led ( Amber, red and green).
Housing
ABS Fireproof material (according to norm UL 94 V-0)
Dimensions / weight
90,2 mm (width)x 53,2mm (height) y 57,5 mm (depth) / 140 grs