iTOUCH DO NOT DISTURB & MAKE UP ROOM EXTERNAL INDICATOR with doorbell
You are here
iTOUCH DO NOT DISTURB & MAKE UP ROOM EXTERNAL INDICATOR with doorbell
Features
>
STATUS INDICATOR. The bar shows the choice made by the hotel guest with the push-button. Red (Do not disturb- DND) / Green (Make up room o MUR)/Blue (occupied room)
>
DOORBELL BUTTON: It has a doorbell that rings on the push button device in the room, so long as the client haven't pushed "do not disturb".
>
WIRELESS COMMUNICATION WITH THE ENERGY SAVER
>
BUTTON. A capacitive button (optional).
>
STANDALONE OPERATING WAY / ENERGY SAVER ENABLED OPERATING
>
MODE CONFIGURATING SWITCHES :push mode, night mode, occupancy light, standalone mode.
>
INSTALLATION. Wall mounted (surface or recess mounted)
>
CUSTOMIZABLE: the DND& MUR external indicator can be customized with the room number or use as-is.
>
SLIM DESIGN: easy to fit in the hotel interior design.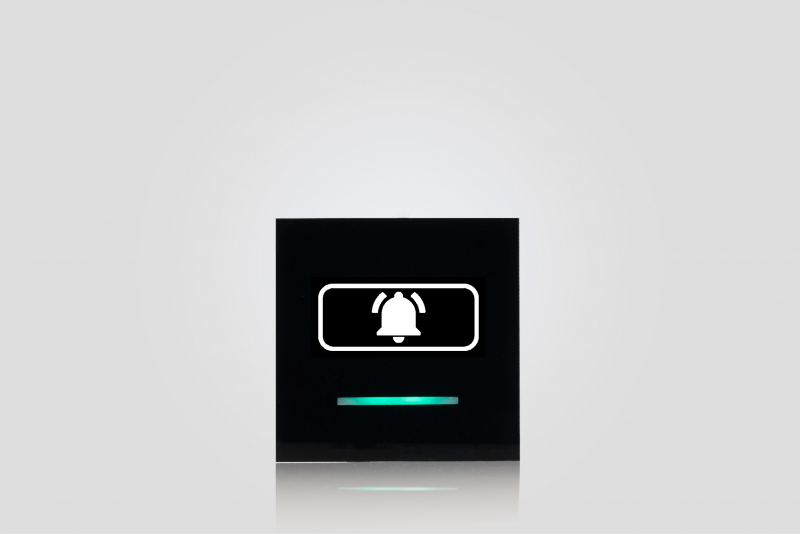 Dimensions

Technical specifications
Description
DND/MUR "iTOUCH" indicator (outside the room) with doorbell
Reference
Recessed model - DMTxIVF10303007
Surface accessory- CJACCTOUCHV0-1x
Power
100 - 240 V~ 50/60 Hz
Power cables
PCB Board Connector, rising clamp system/2.5mm2 max
Communications
2,4GHz, IEEE 802.15.4 wireless
Communication coverage
10-50m (depends on obstables/interference etc)
User interface
· RGB inner bar to show the room status.
· 20x50 mm capacitive button.
· Configuration dip switch.
Operating temperature
-10ºC to 60 ºC
BACK HOUSING
ABS fireproof material (according to norm UL 94 V-0)
DIMENSIONS
Recessed model: 80,5 x 80,5 x 31,6 mm
Surface model: 80,5 x 80,5 x 35,3 mm
100 g